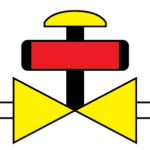 Raritan Valve & Automation invests in complete lines of electric, pneumatic and hydraulic actuators to compliment our extensive inventory of quarterturn and multiturn valves. Electric actuators and gearboxes producing up to 498,00 ft. lbs. of torque; Pneumatic Rack and Pinion, Scotch-Yoke and Vane type actuators; and Hydraulic and Electro-Hydraulic actuators.
Please see our list of premier actuator manufacturers below:
PNEUMATIC ACTUATORS:
HABONIM
REMOTE CONTROL / ROTORK
APOLLO
UNITORQ
ASAHI / AMERICA
KINETROL
HANNA
ELECTRIC ACTUATORS:
AUMA
TURN-FORCE
VALVCON
ASAHI / AMERICA
REMOTE CONTROL / ROTORK
PROMATION
HYDRAULIC ACTUATORS:
VAL-MATIC
HANNA
REMOTE CONTROL / ROTORK
GEARBOXES:
AUMA
VAL-MATIC
MASTERGEAR / ROTORK
DYNATORQ
 Click here to have one of our valve automation experts contact you.